Regular price
$17.99 USD
Sale price
$17.99 USD
Unit price
per
Sale
Sold out
View full details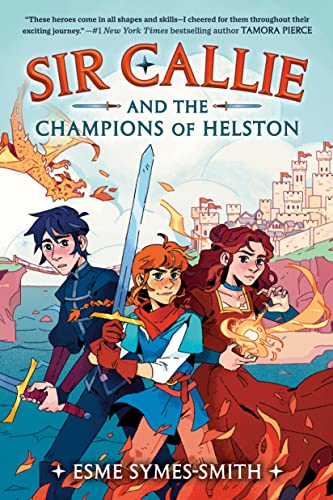 In a magical medieval world filled with dragons, shape-shifters, and witches, a twelve-year-old nonbinary hopeful knight battles for the heart of their kingdom. A thrilling middle-grade series opener that explores identity and gender amid sword fights and magic, and proves anyone can be a hero.
"These heroes come in all shapes and skills—I cheered for them throughout their exciting journey." —#1 New York Times bestselling author Tamora Pierce
When their ex-hero dad is summoned back to the royal capital of Helston to train a hopeless crown prince, Callie lunges at the opportunity to finally prove themself worthy to the kingdom's "great and powerful."
Except the intolerant great and powerful look at nonbinary Callie and only see girl. But Callie has always known exactly what they want to be, and they're not about to let anything stand in their way.
Trapped in Helston's rigid hierarchy where girls learn magic and boys train as knights, Callie discovers they aren't alone—there's Elowen, the chancellor's brilliant daughter, whose unparalleled power is being stifled; Edwyn, Elowen's twin brother desperate to win his father's approval; and Willow, the crown prince who was never meant to be king.
In this start to an epic series packed with action, humor, and heart, Callie and their new friends quickly find themselves embedded in an ancient war—and their only hope to defeat the threats outside the kingdom lies in first defeating the bigotry within.
"Everything you could possibly want from a middle grade fantasy." —The Nerd Daily
416 Pages • Yearling (2022)